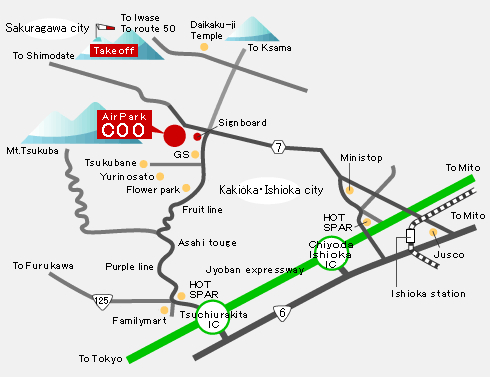 ---
AirPark Coo Paragider Area • School
1698-1Uwaso, ishioka-shi, Ibaraki, Japan 315-0157
TEL•FAX@F@({81) 0299 (44) 1408
Pick-up service at Narita International Airport
2 hours from Narita International Airport.
There is a pick-up service at Narita International Airport If you would like to use this service, please let us know the following information from our website by Mar.20th. We cannot pickup competitors who donft apply for this service from our website by then.
Name, Arrival Date, Flight number of arrival, Arrival time, Names of group members, Departure date, Flight number of departure, Departure time, contact e-mail address.
âGoto Pick-up service form
For coming by car
Jyoban expressway Tiyoda Ishioka IC getting off and R6 to the Ishioka town and the Mito district.
No.7 on the prefecture road to left turn (The signboard of Jusco is a sign) Yasato and Kashiwabara industrial estate district.
Jyoban expressway Tsutiura IC getting off and R125 to theTsukuba district.
It turns to the right in the second signal(Convenience store HOTSPAR is a sign) Asahi pass is exceeded, and it runs in the Fruitline along the signboard of the Flower park. There is a signboard of COO.
It turns to the left in the signal (This side and the Nakatsugawa Restaurant of the signal are signs). About 700m to which it turns.
Both 30 minutes from IC.
For coming by train

It gets off at Ishioka Station of the JR Jouban Line. gets off in the terminal getting on "Kakioka garage taking" of the Kanto Railways bus. 15 minutes on foot from the bus stop. (meeting and sending off provide call).
From Ueno Station for about one hour in the special express use.
---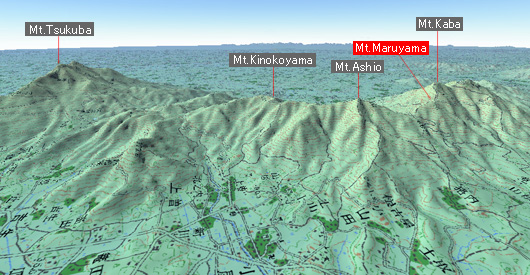 Yasato side from Mt. Tsukuba to Mt. Kaba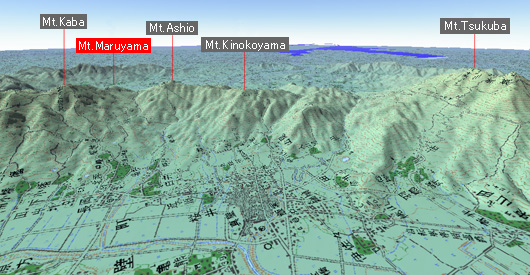 Makabe side from Mt. Tsukuba to Mt. Kaba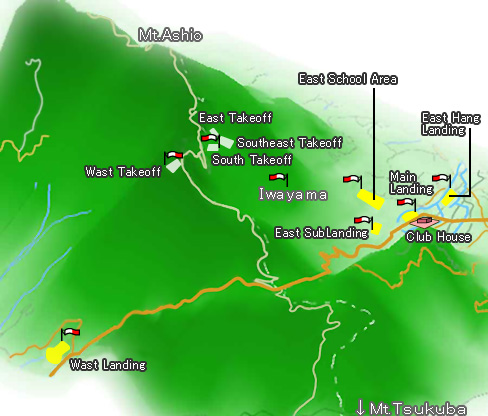 ¢Page Top